Dave Ramsey and SmartVestor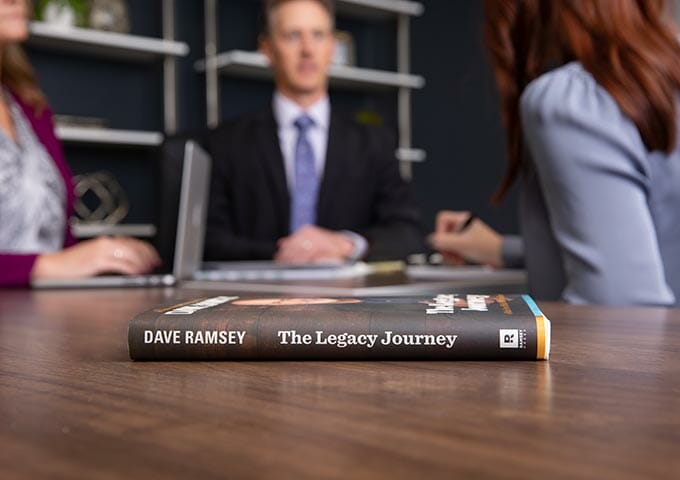 Dave Ramsey is a personal money-management expert and one of America's most trusted voice on money and business. He has authored four New York Times best-selling books and is the host of the nationally syndicated Dave Ramsey Show, which is heard by 14 million listeners across more than 600 radio stations and podcasts.
Known for his financial literacy programs, Dave Ramsey has helped thousands of families become debt free. As part of that mission, Dave created the SmartVestor Pro program to enable families to receive investment advice from qualified professionals.
Every SmartVestor Pro goes through a careful interview process to make sure they have the same principles and deliver the same excellent advice as Dave does, provides outstanding customer service, and has the heart of a teacher.
The Benefits of Working with a SmartVestor Pro
When you work with a SmartVestor Pro, you can rest assured that you are receiving the same expert financial advice that Dave Ramsey, himself, would give. There are numerous advantages to working with a SmartVestor Pro financial advisor, but the four most critical ones are:
Asset Strategies and Dave Ramsey
Our relationship with Dave Ramsey and SmartVestor first began in 2002 when our co-founder, Justin Widick, heard his show on a tiny Omaha radio station. Many of the principles that Dave teaches his listeners are the same ones that we have been teaching our own clients since we first opened our doors. We became a part of Dave's Endorsed Local Providers program (now SmartVestor) in 2002 and the rest, as they say, is history.
As SmartVestor Pros, we are more than just financial advisors – we are educators and guides. We believe – just like Dave Ramsey believes – that people should be able to understand their financial situation and how they can best make their money work for them to meet their needs and goals.
Chadd Hoeft and Justin Widick currently serve as members on Dave Ramsey's Smartvestor Council. The SmartVestor Council is a team of 17 investment professionals nationwide that aim to help Dave and his team direct other financial professionals in serving Dave Ramsey listeners. 
These top individuals from around the nation were chosen from over 800 Dave Ramsey SmartVestors to serve on the council. Chadd and Justin have been members since the council was formed in 2014. They focus on best practices for investment, retirement, and financial planning strategies as well as customer service.